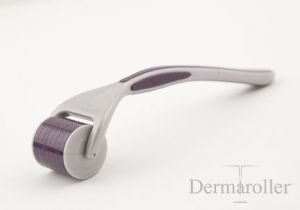 HOME DERMAROLLER MICRO-NEEDLING ROLLER C8
The Home Dermaroller C8® model provides an easy and simple treatment for radiant, smooth skin. Based on leading Dermaroller® micro-needling technology, the Home Dermaroller C8® painlessly stimulates your epidermis (uppermost skin layer) to generate thicker, fresher, healthier skin. Every time you use it, you benefit from advanced skin rejuvenation technology in the privacy of your own home! Safe, effective, and painless design.
The home roller contains 192 extremely fine, surgical micro-needles measuring 0.20 mm in length. This precise length allows proper penetration into the epidermis, but the needles do not reach the superficial nerve sensors in the dermis. This makes the home treatment safe, effective and painless.
Help to thicken the epidermis
Increase micro-circulation below the skin
Reduce pore size
Reduce oil levels in the skin
Mildly reduce wrinkles and fine lines
Enhance delivery and effectiveness of medical grade skincare creams by 200x
Promote continuous skin cell production and collagen induction after a medical Dermaroller® procedure
The model C8® enhances the removal of dead skin scales (exfoliation) and stimulates new skin cell production. This is what is commonly referred to as skin rejuvenation. Properly designed micro-needles, even at a tiny length of only 0.15 to 0.18 mm, have a physiological effect on the epidermis. The micro-needles stimulate proliferation of keratinocytes.
These cells transform into keratin, and are later rejected as "dead cells," also called scales or squames. In return, this cell stimulation speeds up the epidermal renewal cycle. When keratin scales have less time to age and turn gray, the skin maintains a softer, more youthful texture and glow.
The Home Dermaroller C8's® quality micro-needles provide another desired skin benefit: It thickens your uppermost skin layer by an average of 30%. Regular use, without any other skin care product, it will noticeably increase epidermal thickness and lucency. What others see is visibly youthful, vibrant, more toned skin.
SHRINKS PORE SIZE AND IMPROVES SKIN HEALTH
Isolated skin disorders and inflammation (such as acne) are often caused when old, sticky scales of the stratum corneum (thin outermost layer of the epidermis) block the sebaceous (oil) and perspiratory (sweat) gland ducts. As The Home Dermaroller C8® rolls across your skin, the roller's fine needle tips mechanically remove these "blockers." This keeps the sebaceous and perspiratory glands' ducts open. As a result, pore size shrinks and skin health improves.
MINIMIZE ACNE OUTBREAKS ASSOCIATED WITH MENSTRUAL CYCLES
Many women experience acne outbreaks in conjunction with their monthly cycles. That's because the monthly hormone change triggers an increase of keratin layers in the sebaceous gland ducts. In turn, this blocks the free sebum (oil) flow, which can result in acne. By using the Home Dermaroller C8® regularly (about 2 to 3 times a week), transitional acne will improve.
REVITALIZE DULL-LOOKING SKIN
As skin ages, it takes longer to renew skin cells in the epidermis. As the renewal cycle takes longer, the uppermost scales start to dry out, loosen and reduce transparency. As a result, your skin dulls and appears grayish. The model C8's® ultra-fine needles efficiently remove these gray scales. You'll notice visibly softer, more radiant skin with a finer texture.
EXFOLIATE FACIAL SKIN WITHOUT THE NEED FOR "EXFOLIATING" CREAMS
Exfoliating creams simply scrub off the upper cells of your epidermis, but the Dermaroller C8® enhances your overall skin tone and health by providing true exfoliation and so much more:
The Dermaroller C8® can be safely used up to 125 times (about one year) before you will need to replace the device. This is why every Home Dermaroller C8® is accompanied by a Dermaroller® Roller Cleaner spray which will help remove the skin debris on the roller. This will not disinfect the roller. Never use an alcohol-based cleaning product on the Dermaroller C8®, alcohol-based cleansers can ruin the integrity of the model C8's® fine micro-needles.
SILICON SCAR IMPROVEMENT GEL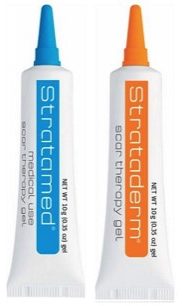 The success of silicon products for the improvement of new and old scars is well demonstrated in numerous medical studies. In the early days silicon sheets were laid over scars. Today, a film-forming, gas-permeable silicon gel performs the same function with the benefit of much better convenience, cosmetic appearance, and the ability to apply sunscreen and make-up over the top. Dr. Shaikh recommends these products be used after surgery and laser procedures in cosmetically sensitive areas. We stock silicon products by Stratpharma, a Swiss pharmaceutical company focused on products for skin scarring. We stock their products after trying the range of locally available alternatives. Stratamed® is the only product registered for use on broken skin and is used after ablative laser or shave/curettage procedures, and Strataderm® is used for older scars or new scars immediately after the surface skin has healed. Only a very thin layer is needed, and the tubes should last a long time. 3-4 months application is usually recommended.
Complete acne treatment specifically formulated for normal to oily skin to help treat acne where it starts.
Daily Care Foaming Cleanser
Pore Therapy
Therapeutic Lotion
Cliniderm products are formulated without parabens, dyes, perfumes, lanolin, formaldehyde or proteins.